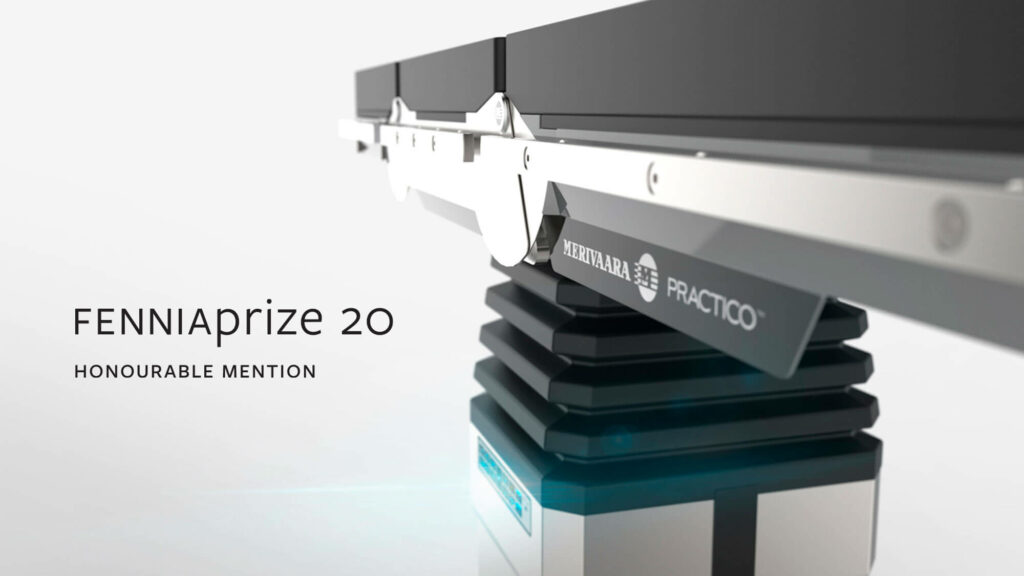 Merivaara's Practico® operating table has been awarded the Fennia Prize Honourable Mention for the year 2020. The Fennia Prize is Finland's most prestigious business design competition.
"It is an honour to be recognised twice in such a short time," says Jyrki Nieminen, Director of R&D at Merivaara. "The Q-Flow surgical light was awarded the Fennia Grand Prize in 2017, and now the Smarter Practico has been given the Fennia Prize Honourable Mention. It's very humbling to see this appreciation for our design."
The Fennia Prize jury stated that Merivaara's design DNA was clear, well-managed and distinctive, and the Practico table followed it naturally.
"The Practico operating table was designed to improve ergonomics in surgical procedures," the Fennia Prize jury said. "It is easy and safe to move around, works with smart controls and meets the specific requirements of the hospital environment, allowing staff to focus on the procedure itself."
Smarter Practico designed for changing health care
The new, Smarter Practico is one of the world's most versatile and technologically advanced operating tables. It has been designed to meet changing patient demographics and the evolving medical industry. People are becoming larger and living longer as the industry has been moving towards more elective procedures and minimally invasive surgeries. These trends have pushed flexible, mobile operating tables to become more common in health care.
"Fifteen years ago everyone was asking for a low surgical table, but it was very challenging to design," Nieminen continues. "We created and patented a new lifting column concept which allowed us to have such a wide range of motion."
The Smarter Practico Max Hi version goes up to 1,130 mm, while the Smarter Practico Max Lo goes down to 540 mm. A lower table is important for older patients so it is comfortable to sit upon, as well as for larger patients so the surgeon can position them correctly. Having a wide range of motion is critical for the surgeon so she can be comfortable as she works, no matter her size and the size of her patient.
Designed for people
"We invited surgeons to visit the Merivaara R&D centre to give us feedback as we designed the Smarter Practico," says Nieminen. "Surgeons know what they need, so we got their opinions and continually improved the table as it was designed."
The table has also been designed for quick turnaround between patients. The base is sloped so fluids flow off while gaps have been eliminated and the heads of screws have been hidden so matter doesn't accumulate. Even the bellows were designed so that a finger could easily reach the bottom of the grooves for quick and simple cleaning.
"We're very happy to have the Practico design honoured by the Fennia Prize," Nieminen says. "We have a great appreciation for design in this country and it is great for our hard work to be recognised."
Fennia Prize 20 is arranged by Design Forum Finland, Fennia Group, Elo and the Finnish Patent and Registration Office. The winners and honourable mentions are elected every second year by a jury of experts from the fields of design and business. The winners are honoured at the Design Forum Finland Awards event.