The article has been published on The Oriele Journal Issue 2 by The Finnish-African Society ry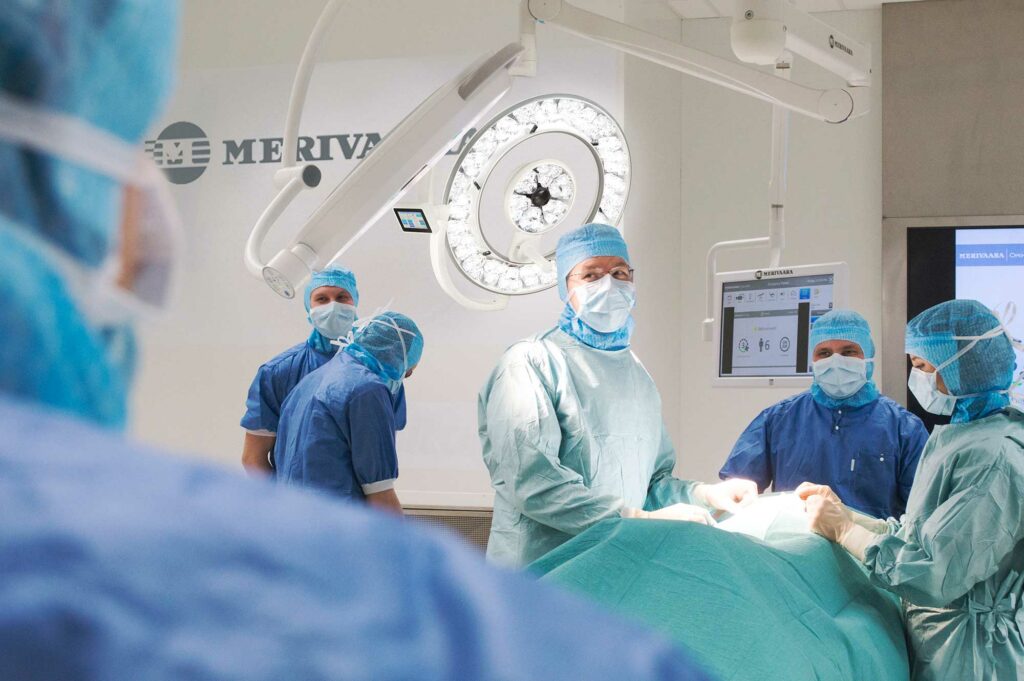 Ensuring access to quality and affordable medical devices is vital in addressing health emergencies, advancing healthcare coverage, and promoting healthier populations. According to the World Health Organization (WHO), it's estimated that there are 2 million different kinds of medical devices on the global market, classified into more than 7000 generic devices groups.
The world of healthcare technology, medical devices, and equipment is rapidly becoming an innovative and life-changing space, emphasizing affordability, accessibility, and efficiency. Merivaara Group is a leader in intuitive healthcare technology and industrial design. A Finnish company that laid the foundation for becoming a hospital patient safety pioneer in healthcare technologies and surgical intervention with groundbreaking designs.
Merivaara has been recognised for quality throughout history
The story of Merivaara began on November 8, 1901, when two young blacksmiths Juho Sjöstedt, later Merivaara, and Richard Polsa established Helsinki's New Iron Bed Factory, Polsa & Sjöstedt, in a stone shed in Helsinki, Grand Duchy of Finland. The new company had four employees. In the beginning, production was limited to iron beds and all kinds of forge work. The company, with its metal beds, improved hospital hygiene significantly.
In the early 20th century, the national awakening of Finns means that many change their originally Swedish last name into the Finnish language. In 1906 Juho Sjöstedt became Juho Merivaara, and the company's name is changed to Polsa & Merivaara. The company won the second prize in an industrial exhibition in Finland for its iron bed.
Merivaara follows the emerging industrial development carefully in Finland and starts producing hospital furniture. The first operating tables came out of production in 1910.
Customer satisfaction is at its peak and employee expansion is on the rise resulting in market expansion. Merivaara went on to win awards at exhibitions from 1906 to 1937 when they received the highest Grand Prix award, a gold medal in the Paris world exhibition for its high-quality products. In 1917, the company completed work on its factory building in Helsinki, Finland, with 100 employees. In the same year, Finland gained its independence. The company, later on, became a registered limited liability company, J. Merivaara Oy, in 1923, with Juho Merivaara as the majority shareholder.
In the 1960s, the internationalisation of the company began, and exports became a vital part of the business.
Over the years, Merivaara's products have won several awards, the latest being the Red Dot Award and the Fennia Prize Grand Prix for Merivaara QFlow™ surgical light in 2017. More recently, in 2020, the Fennia Prize Honourable Mention for Smarter Practico™ operating table.
Design innovation and cooperation for a healthier population
During the early years of independence, the development of the Finnish healthcare system in rural areas paved the way for better healthcare services. In the 1920s, Merivaara specialised in quality hospital equipment. To best serve the population, they closely cooperated with Finnish doctors to develop new and innovative models for the hospital sector. Their commitment to serving the people with quality hospital equipment gives them large-scale hospital deliveries to many large hospitals around Finland. In the 1930s, they furnished hospitals, homes, offices, hotels, prisons, and the armed forces. Merivaara manufactured and launched an innovative Laryngo-Broncho-Esophagoscopy operating table. They went on to receive a gold medal from the Finnish Fair for their high-quality products.
Maintaining Merivaara's legacy
The founder of Merivaara, Juho Merivaara, passed away on April 15, 1938. He created a business from scratch into a leading company in its area in Finland. He visited several countries to learn about production and established commercial relations with various countries, such as Sweden, Germany, France, the UK, and the United States of America. His motto, "All products leaving Merivaara's factory must be of high quality," is still today the guideline of Merivaara's operations.
Today, the Finnish Merivaara Group is a forerunner in intuitive health technology and industrial design. It focuses on solutions that support operating room functions. Merivaara's operating tables, surgical lights, OR Integration system, and services improve patient safety and increase the quality and efficiency of surgical operations in the world's leading hospitals. Throughout its history, ownership is still in the hands of Finnish owners, and 'Made in Finland' is the cornerstone of the operations. Today, Merivaara has an extensive network of distributors around the globe.
The Oriole spoke to Hannu Impola, Export Sales Director of 7 years at Merivaara, who shared what makes Merivaara such a dynamic pioneer in their African markets engagements.
What is your company's mission statement, and how has this impacted the international healthcare market since 1901?
We at Merivaara design innovative solutions to help healthcare professionals to take care of the patients to live better lives.
For more than 120 years, Merivaara's values have been uncompromising quality, simplicity, and learning from the user experience and also from each other. We are proud to apply the same values today.
What are some of the opportunities in emerging markets, especially on the African continent?
The African continent presents many opportunities. We have distribution partners in 11 African countries: Kenya, Uganda, Tanzania, Rwanda, Ethiopia, Ghana, Botswana, Sudan, Egypt, South Africa, and Morocco. In my team, I have a Merivaara Regional Sales Manager located in Nairobi, Kenya. He is serving all our distributors in their local business with end customers.
What have been some of your significant challenges?
The first challenge is always finding a reliable local representative and presence. We have that with the Merivaara Regional Sales Manager in Kenya. Some distributors are financially strong to finance the deals. Still, some of them are small, financially restricted; this is one of the common problems in dealing with acquisitions.
What insights can you provide potential investors about the emerging trends in the healthcare market on the African continent?
From our experience, the most significant need is to seek financing for hospitals or distribution partners to finance the new constructions or hospital renovations.
For those considering exporting medical devices to the continent, what would be your advice?
A few essential tips to remember are: firstly, find the right and reliable local representatives. Secondly, make provision for solid financing. And finally, do not expect quick Returns On Investments (ROI) because the sales cycles are long in this line of business.
How have you been able to build a sustainable value chain despite the disruption caused by COVID -19?
It has been challenging, with financing being the biggest obstacle. Lacking face-to-face communication has delayed decision-making processes. On the other hand, most organisations have been able and willing to take the digital jump using Zoom, Microsoft Teams, and other communication tools. This was not part of the local culture before COVID-19.