Merivaara is delighted to announce the launch of Q-Flow™ Fluent surgical light– the latest addition to our award-winning Q-Flow™ portfolio, providing another high-performance, entry level system with excellent features.
Our extended portfolio now offers solutions to even broader customer groups, with Q-Flow Fluent being a perfect model for customers with higher emphasis on simplicity, durability, and high level of hygiene in their operating rooms, but still with expectations of a world class surgical light.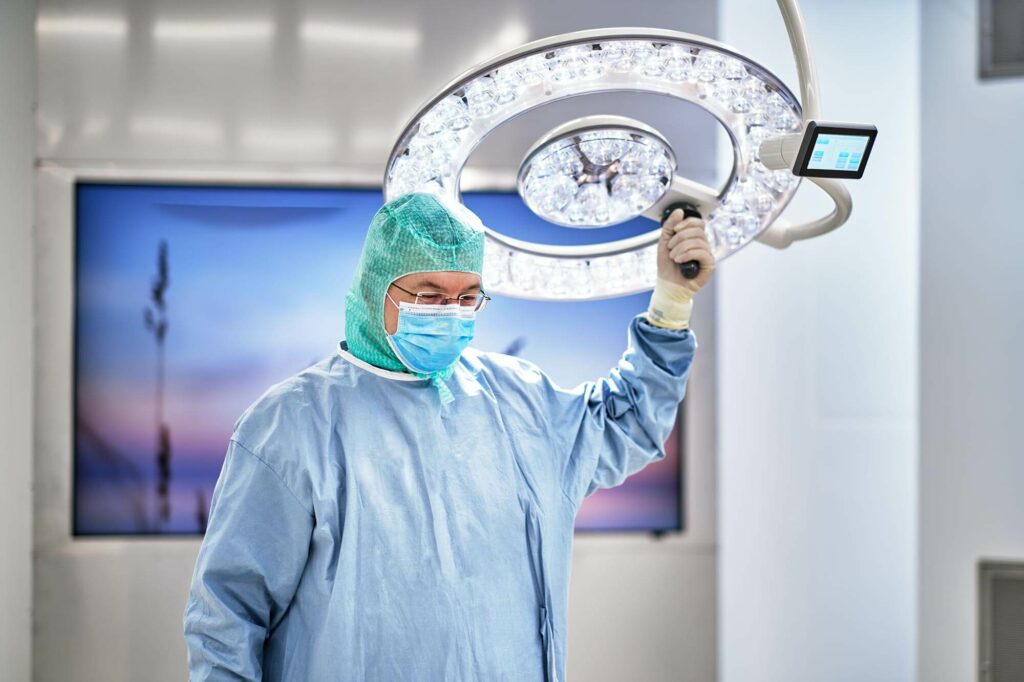 Q-Flow Fluent surgical light delivers a versatile user experience and comes with exciting features – all incorporated to offer excellent optical performance, fluent usability, while being optimally designed for air flow:
Fluent Usability – this is delivered through a new sterile handle, redesigned using advanced engineering for more simplified usability and functionality.
Easy to Clean – the lamp head of the model has been completely redesigned to be fully transparent and seamless. This means that the lamp heads are easy to clean decreasing even further the risk for infections.
Excellent Durability – through a redesign of the front glass and yoke, the new model comes with round steel yoke making it more durable in demanding environments.
Fluent Working Conditions – white ambilite provides excellent illumination properties, delivering background illumination during endoscopic procedures.
Developed to fulfil the needs of the modern surgical team, the Q-Flow™ surgical light range now consists of three models: Fluent, Vision and Intelligent – completing the whole family.
The Q-Flow Fluent remains a true member of the Q-Flow™ family and brings the same benefits as the other two models – comfortable working conditions, perfect tissue colour rendering, all while being intuitive to use.
The award-winning range has been optimised for the operating room air flow thus reducing the potential for contamination. The light also gives superb colour rendering (Ra 98), particularly in red and skin shades, which make the product perfect for a variety of surgeries such as open or plastic surgery.
Fluent usability since 1901
At Merivaara we are committed to developing pioneering equipment that can bring improved patient safety benefits and increase the quality and efficiency of surgical operations. The user experience of our customers and uncompromised quality are at the heart of what we do.
Our surgical lights are built with smart design features, functionality, and simplicity so that the healthcare staff they are intended for can concentrate on what they do the best – taking care of the patient, and not the equipment around them.
Jyrki Nieminen, Director of R&D at Merivaara, said: "We are very excited about our latest product launch. Our solutions not only guarantee patient safety, but also provide healthcare operators with the best value for money.
"When designing our solutions around the entire surgical team, it is important for us to listen to the customer's needs. This allows us to ensure that the team can implement the procedures safely, quickly, and reliably. At the same time, workflow is optimized, and the productivity of the entire team will increase."