Operating room management and AV system available in your own language
INTUITIVE TO USE, EASY TO LEARN
Merivaara's OpenOR™ integration and AV system is a high capacity, future-proof system in a compact design that integrates operating room devices, data, and image management. It is designed to be so simple to learn that everyone likes to use it. This is due to its intuitive and streamlined user interface available in your own language. Therefore, it is easy for the entire surgical team to learn quickly how to use the OpenOR system efficiently. OpenOR integration and AV system can also be used with tablets, which increases usability and ergonomics.
The user interface of the OpenOR integration system is designed according to the Merivaara Design DNA concept which is the basis for the design of our products and systems. The Merivaara Design DNA includes key elements that ensure that the OpenOR system is easy to use and easy to understand. Merivaara Design DNA reflects modern, customer-oriented functionality that focuses only on what is essential for the users – the user experience itself.
OpenOR integration and AV system has also a Design from Finland mark awarded to companies that have evidence of excellence in Finnish design. The products and solutions using this mark are designed to be professional, user-friendly, and sustainable.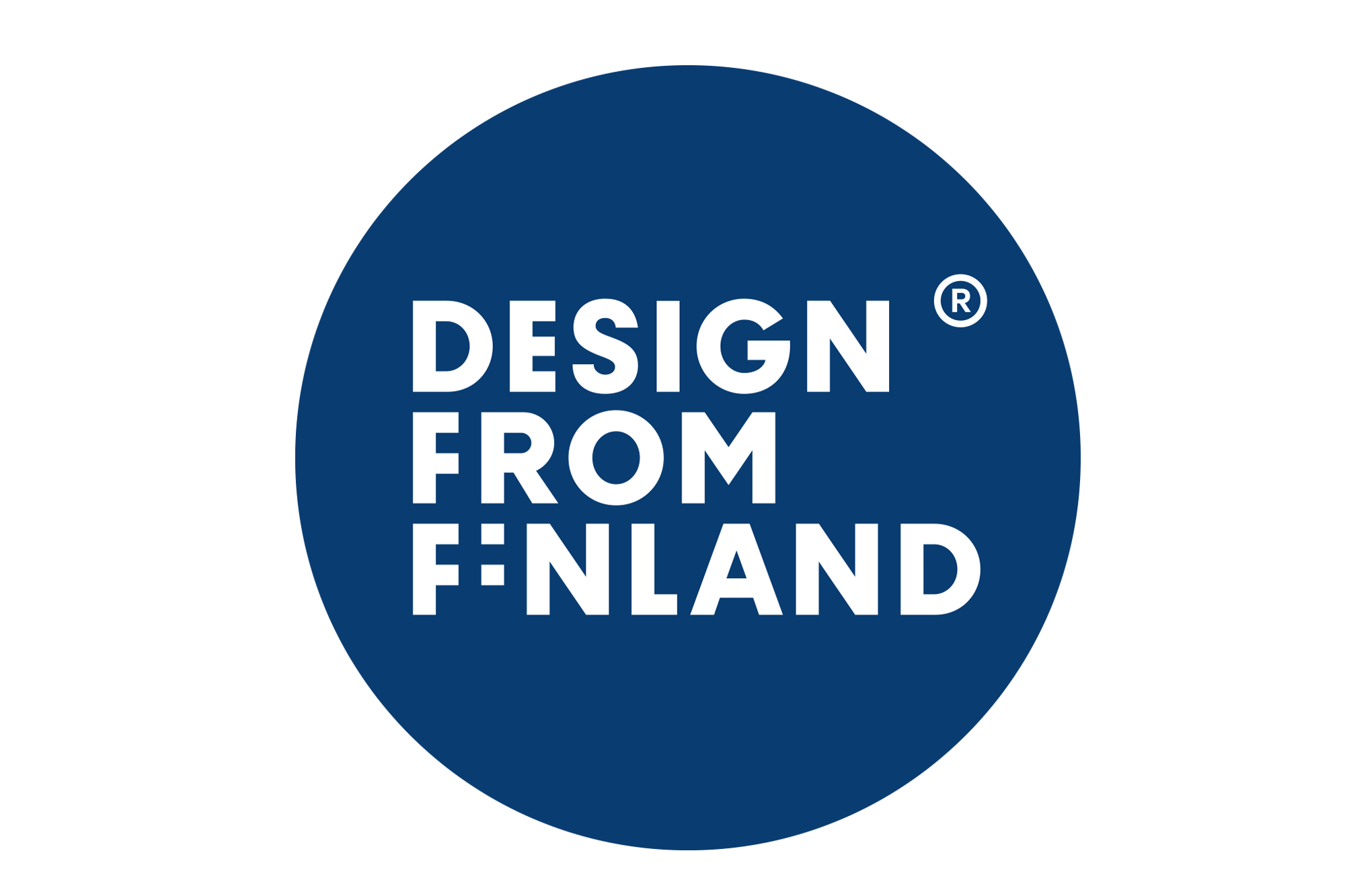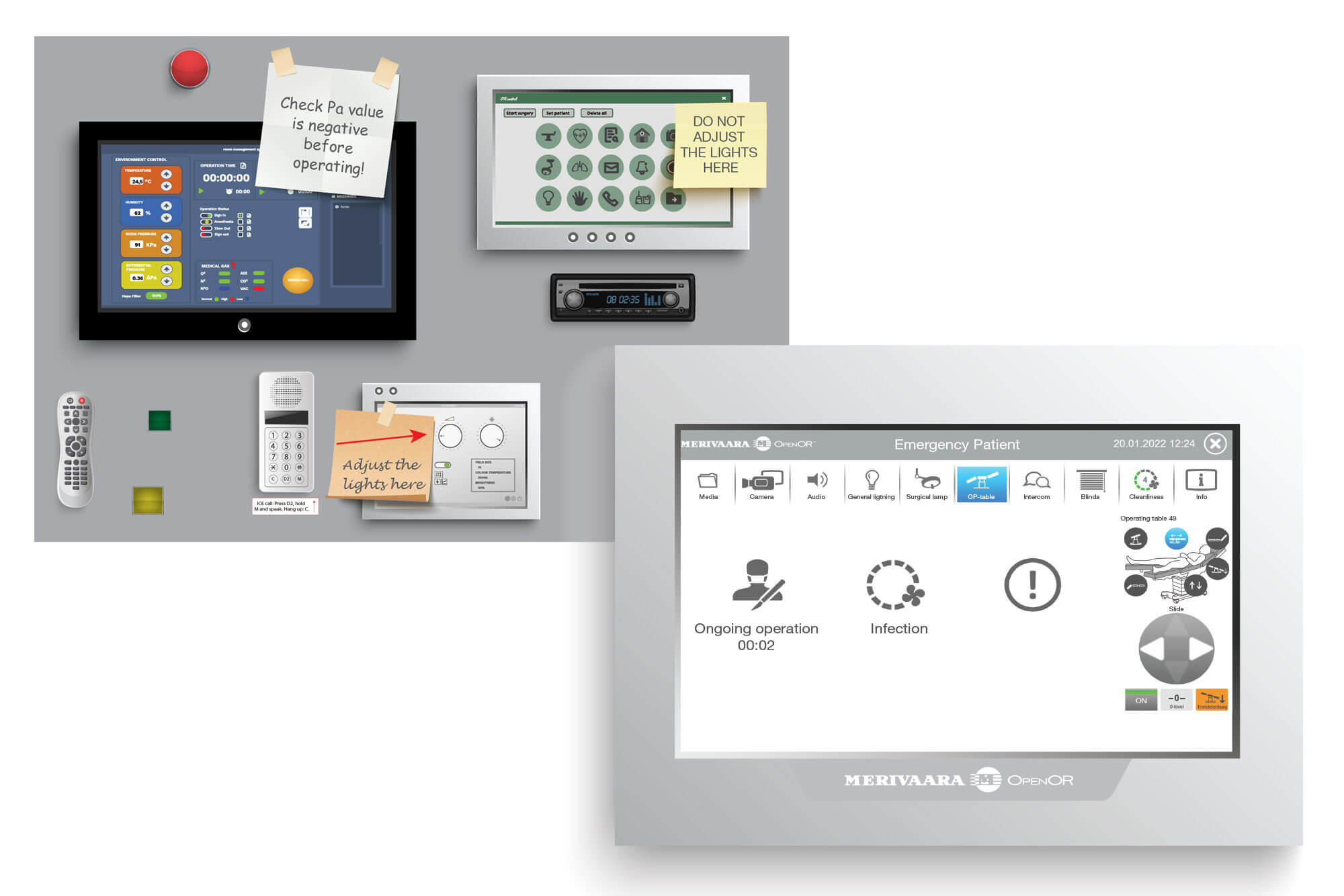 Integrate all your functions under one interface.
YOU CAN MANAGE YOUR OPERATING ROOM FUNCTIONS USING JUST ONE SIMPLE PLATFORM
With the OpenOR integration and AV system the surgical team can easily connect all video and audio sources, medical devices, and room function, such as lighting and air ventilation, to be displayed on monitors or info screens. It has tools for improved patient safety, operating room hygiene and efficiency as well as relaxation for patients. The OpenOR integration and AV system is based on open architecture meaning you can integrate any manufacturer's device into the system and manage it with the OpenOR's intuitive and easy-to-use interface.
The OpenOR integaration and AV system communicates with hospital information systems (HIS), building management systems (BMS) and picture archiving and communication systems (PACS).
OpenOR INTEGRATION AND AV SYSTEM ENABLES HIGH-QUALITY TRAINING AND PREMIUM LEVEL TEACHING
The OpenOR intercommunication enables high quality telementoring to share images, live videos, and two-way communication for training purposes and conferences between the operating room and the outside audience. There are no delays in image transmission inside or outside the operating room. Fibre network based solution makes the OpenOR integration system future proof and provides enough capacity for uncompressed 4K resolution.  Medical video devices can easily be connected just with a simple plug'n play function.

You can use some of the OpenOR's functions via tablet.
PROFESSIONAL AUDIO SOLUTIONS WITH THE OpenOR INTEGRATION AND AV SYSTEM
Merivaara has extensive experience in implementing high quality audio systems according to customers' requirements. The OpenOR's AV system offers a wide range of audio solutions, e.g., music over the Internet, which allows you to create a soundscape in the operating room, helping the surgical team focus on the ongoing operation. Music and images displayed on monitors can be used to calm the patient before the start of the surgery. Ask us more about the Merivaara audio solutions for operating rooms.
ADD NEW MODULES TO THE OpenOR INTEGRATION SYSTEM AND BUILD A SOLUTION THAT LASTS WELL INTO THE FUTURE
If you do not need all the OpenOR features immediately, the modularity of the system allows you to start with the Merivaara AV system and expand it later by adding new features when you need them. This means considerable savings on the initial investment.
Merivaara has extensive experience of IP transmission technology in medical environment and continues to invest in R&D to bring new, innovative solutions for surgical teams also in the future. This guarantees that the OpenOR integration and AV system is reliable and future proof solution for your operating rooms.
Integration
For more detailed information, please check out our brochure OpenOR – Intuitive Integration & AV System for operating rooms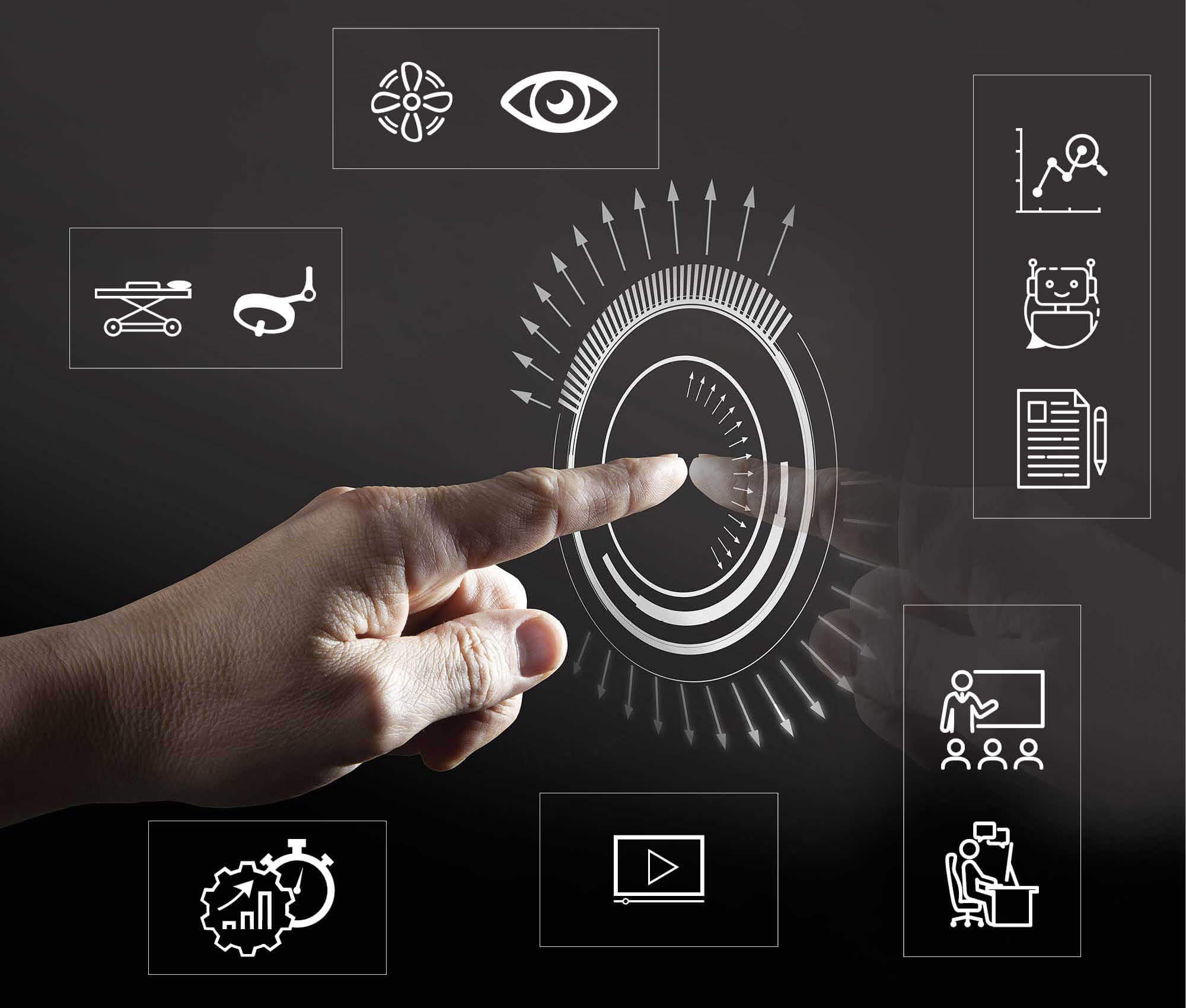 1
2
3
4
5
6
7
1. FLUENT USABILITY
Intuitive touch control
2. FREEDOM TO CHOOSE
Device control
3. REDUCED RISK OF INFECTION
Air flow control • OR Info
4. WORKFLOW OPTIMIZATION
Efficient information sharing • Automation • Worklist
5. LIVE CONNECTIVITY
Auditorium • Intercommunication
6. MEDIA MANAGEMENT
Sharing and storing images and videos
7. LIFECYCLE SUPPORT
Benefits of the OpenOR
REDUCED RISK OF INFECTIONS
The OpenOR integration system enables efficient information flow among colleagues. You can place an information screen outside the operating room telling the situation in the operating room, such as ongoing surgery. This reduces the need to open the operating room door unnecessary. OpenOR can also be used to automatically control the air ventilation in the operating room to reduce the risk of infection.
IMPROVES PATIENT SAFETY
OpenOR integrations system automates the workflow and reduces errors. Work quality control and patient safety are improved when each surgery is documented and archived before, after, and during the surgery. OpenOR system enables less traffic in the operating room and better communication with the team.
FREEDOM TO CHOOSE
OpenOR integration and AV system is a flexible system that allows you to add new features to the system when needed. The open architecture allows you to use the system on all your devices regardless of the supplier. We are constantly developing the system to offer new, innovative features to operating room teams. We can also work together to develop features just for your surgical team's specific needs.
KNOWLEDGE SHARING
In teaching hospitals, OpenOR integrations and AV system is an excellent tool for training surgeons and other colleagues or getting real-time advice from other surgeons remotely.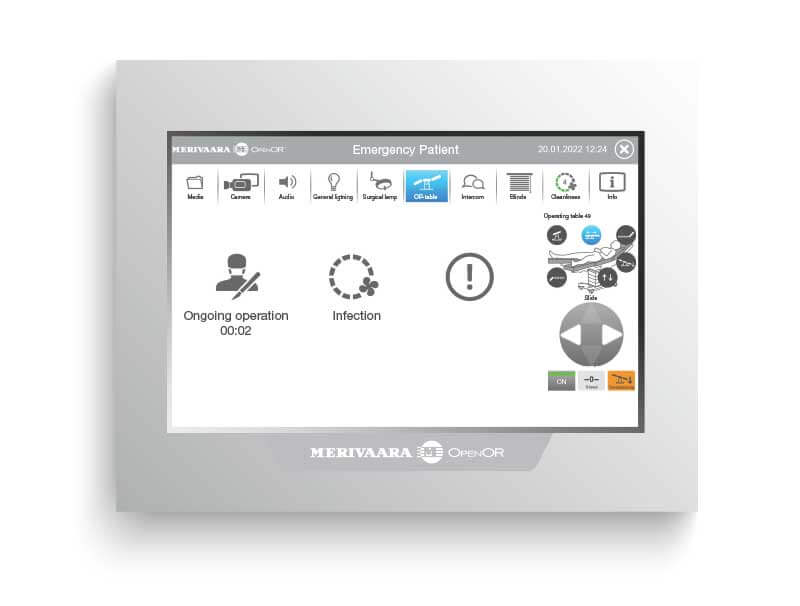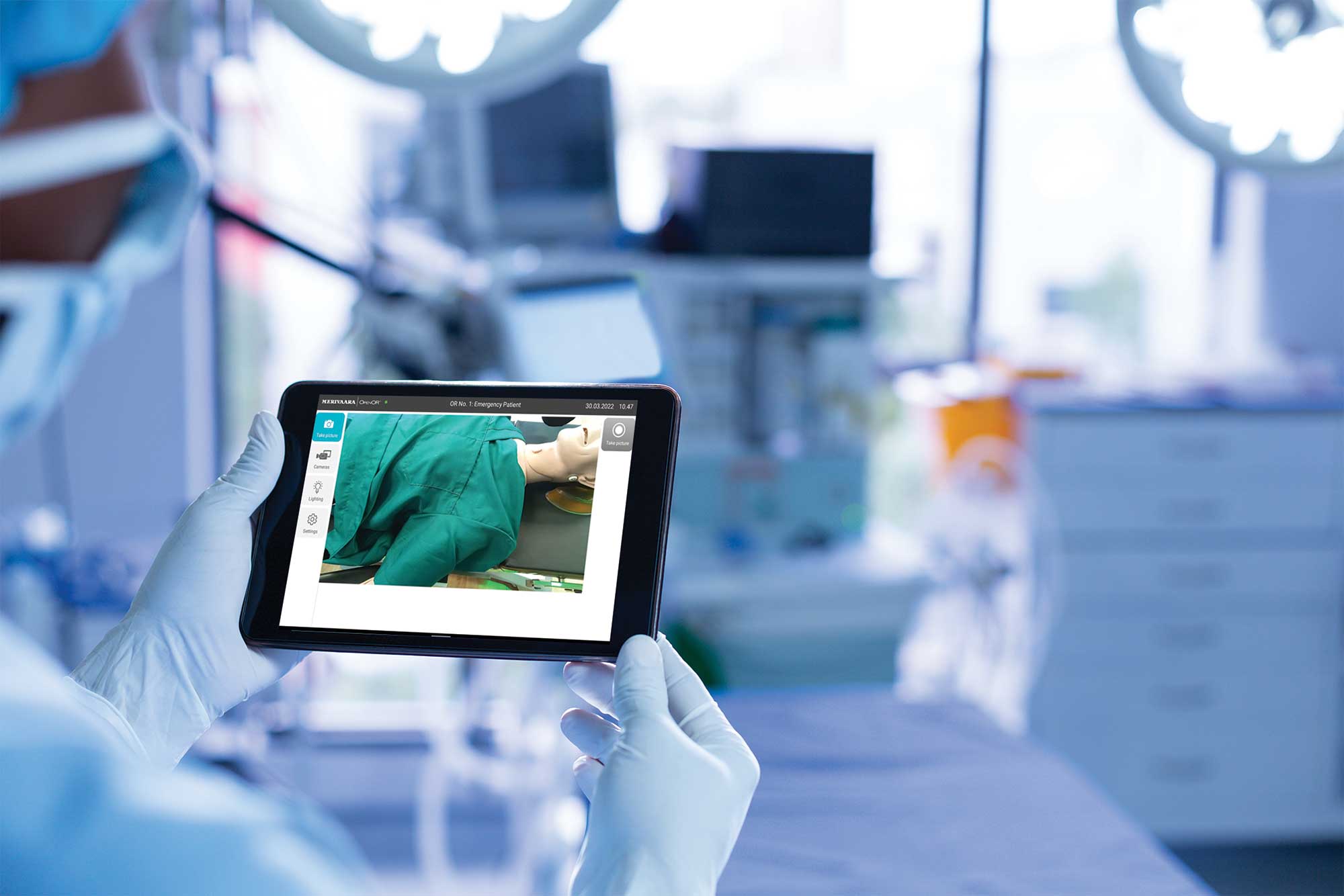 See also
The OpenOR management system controls all the technical equipment during operations
Learn how the OpenOR integration system helps to simplify and streamline the workflow in the...
Read more